Geography for kids: 75 countries of the world to learn and have fun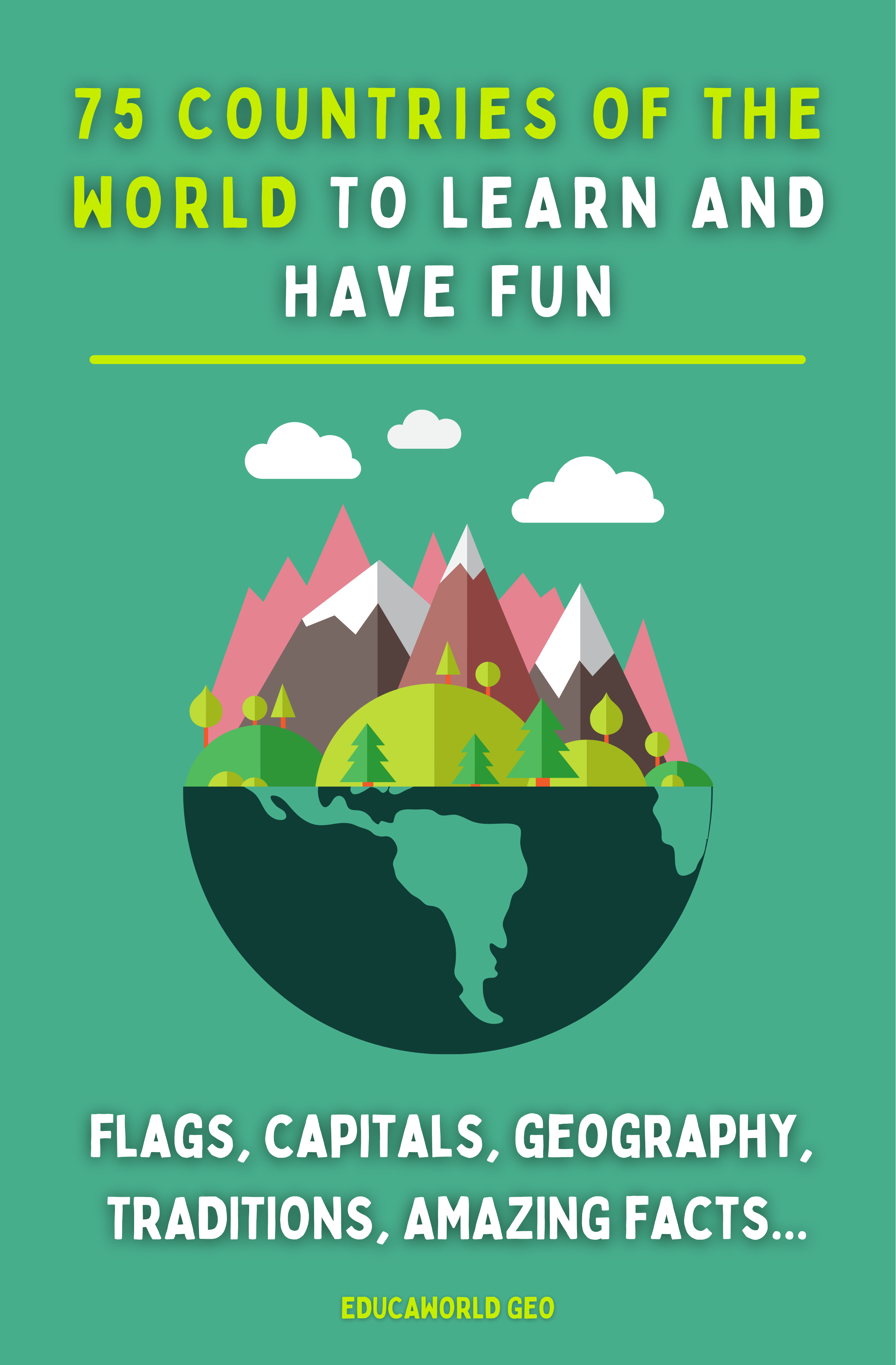 I bring you the book "75 countries of the world to learn and have fun". An entertaining geography book for children where they can discover their flags, capitals, main facts, geography, culture, curiosities and much more of the most important countries in the world.
A journey full of learning and fun through 75 countries of the world
A book for children and teenagers to learn, have fun and discover the diversity of cultures on our planet.
What will you find in this book?
1- Basic information about each country such as its capital, continent, language, currency, population and flag.
2- The most important aspects of each territory, related to its geography, history, gastronomy, sports, animals, languages, culture, traditions and most interesting facts. For example, we will know things like:
What is the difference between England, United Kingdom and Great Britain? And between Holland and the Netherlands?
Who are known as "the Ticos"? And the "Teutons"?
Where is the dish known as "ropa vieja" typical from?
Which country has the macaw as its national animal?
What does the ending -stan mean in countries like Pakistan?
What word do the Irish use for toast?
Where is Kilimanjaro, the highest mountain in Africa, located?
What is the southernmost city on the planet?
Which country was the first to win the soccer World Cup?
Where is the Nature Reserve that inspired the Lion King movie?
This is just a small sample of the hundreds of aspects of all fields distributed among all countries.
3- A list of how to say all the countries in the book in Spanish.
4- Quizzes and activities within the section of each country and at the end of the book to be able to practice what you have learned and play with your family.
A book made with love so that your son/daughter, nephew/niece, grandson/granddaughter can have fun and learn the most important aspects of each country that will be very useful at school and in their life in general. Even the older ones will learn many things they didn't know!
The book is perfect for ages 8 and up.
Who will be the greatest family expert in the countries of the world? Let's start this exciting journey!
Travel the world and learn geography in a fun way!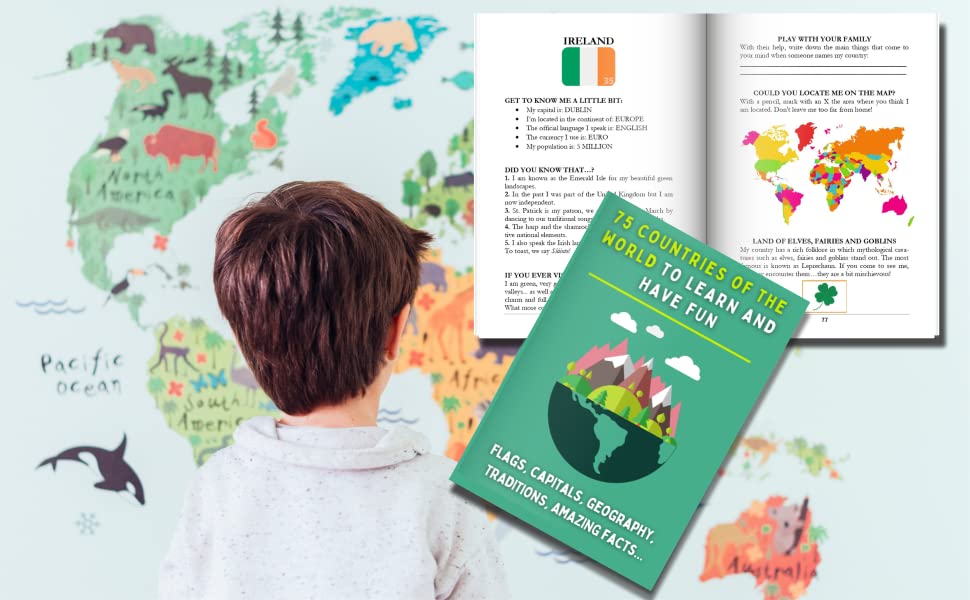 Pack your luggage, it's time to travel around the world! We will travel through 75 countries of the 5 continents such as Argentina, Australia, Brazil, Canada, Colombia, Costa Rica, Egypt, USA, France, Greece, Kenya, Ireland, Japan, Madagascar, Mexico, Paraguay, Sweden, Tanzania… and maaany more countries. Are you ready? Let's go!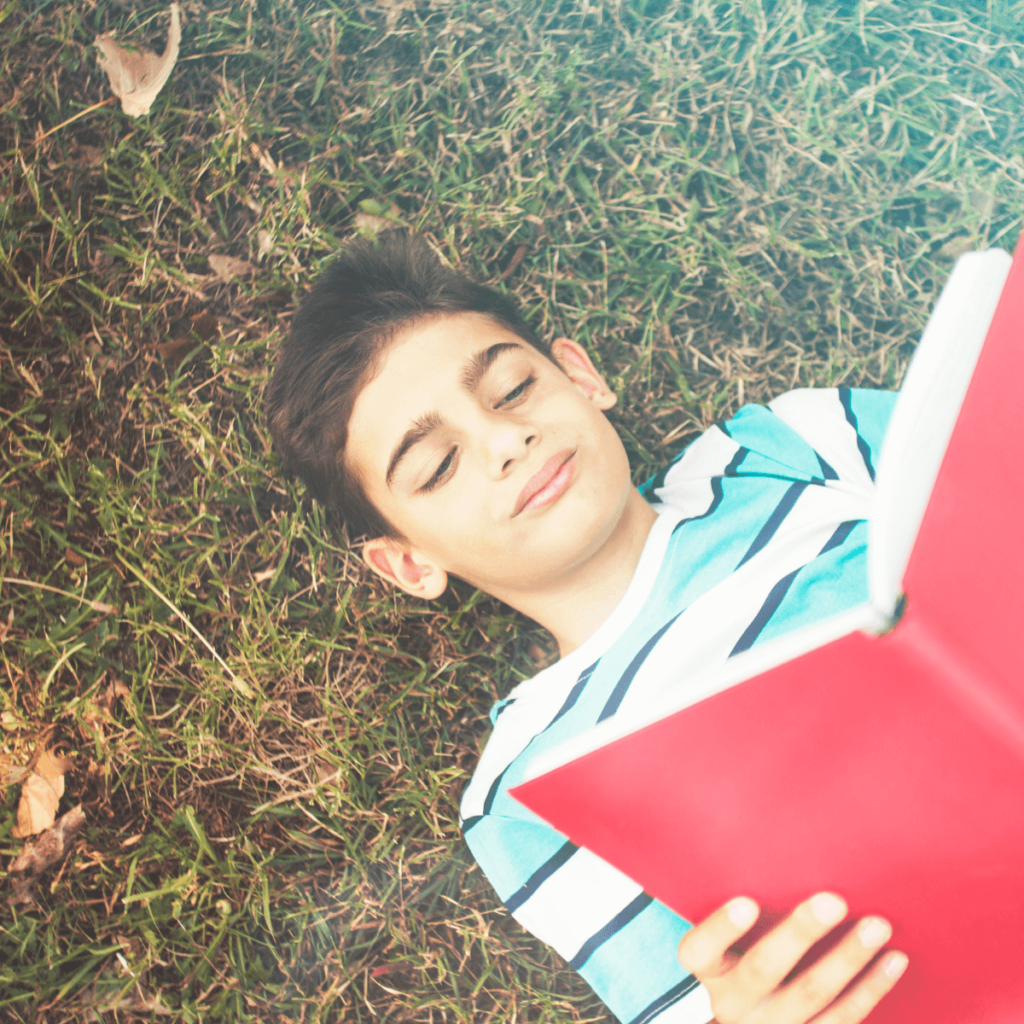 If you are a child or a teenager, this book will allow you to:
Learn the basic aspects of each country such as their capitals, flags, languages…
Open your mind by learning details of other cultures and ways of life on the planet
Get to know more advanced aspects of the countries, gaining knowledge in geography, which will help you in school
Prove yourself through various activities and quizzes about what you have learned
Have a lot of fun traveling around the world from the pages of this book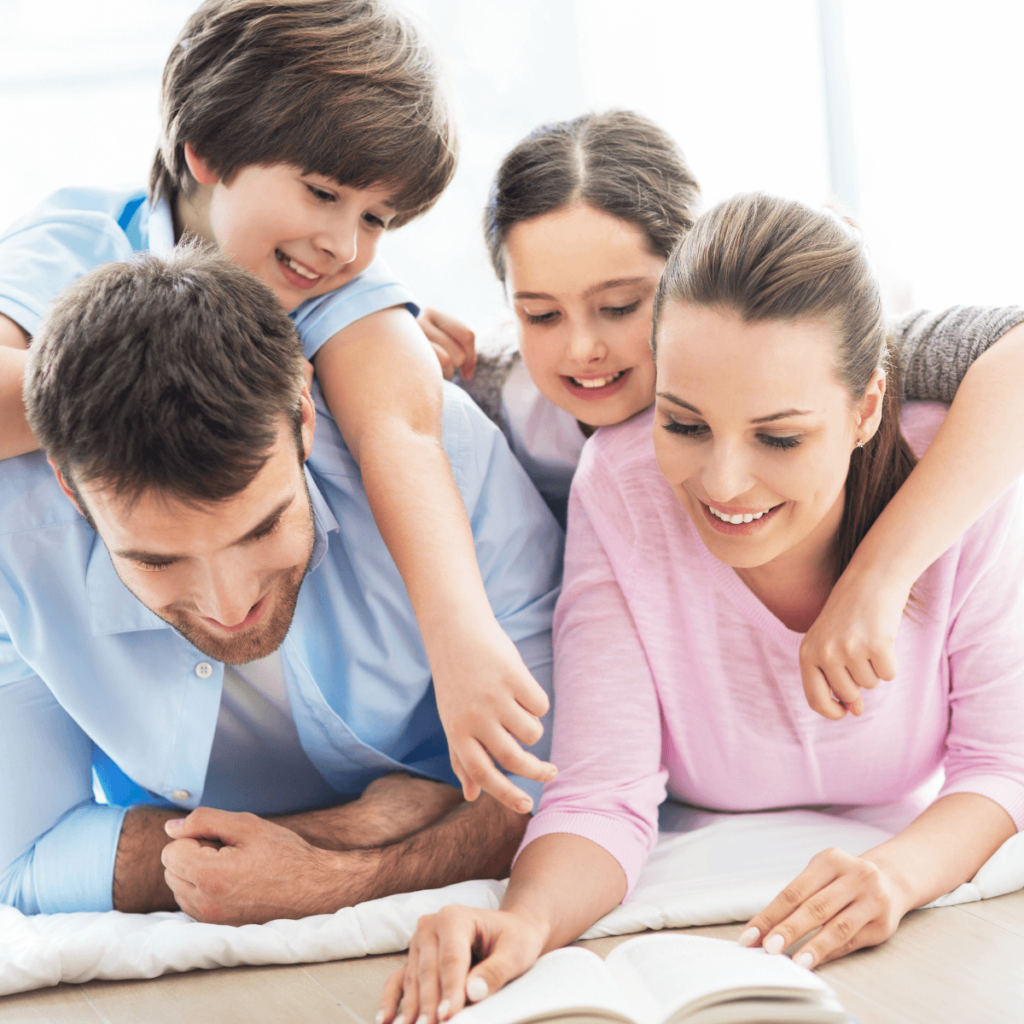 If you are a parent or other adult family member, this book will allow you to:
Spend time with the little ones (or not so little ones), going over the most important aspects of each country in a fun way
Convey to them the diversity and cultural richness of our planet and the importance of respecting all people
Play as a family through the sections on each country, the final quizzes…and the super challenge at the end of the book!
Participate in the educational growth of your children